DNA Personal Training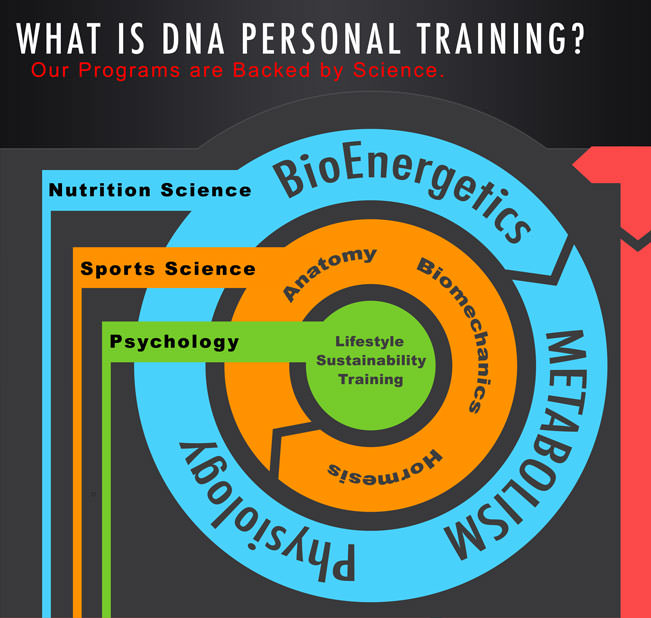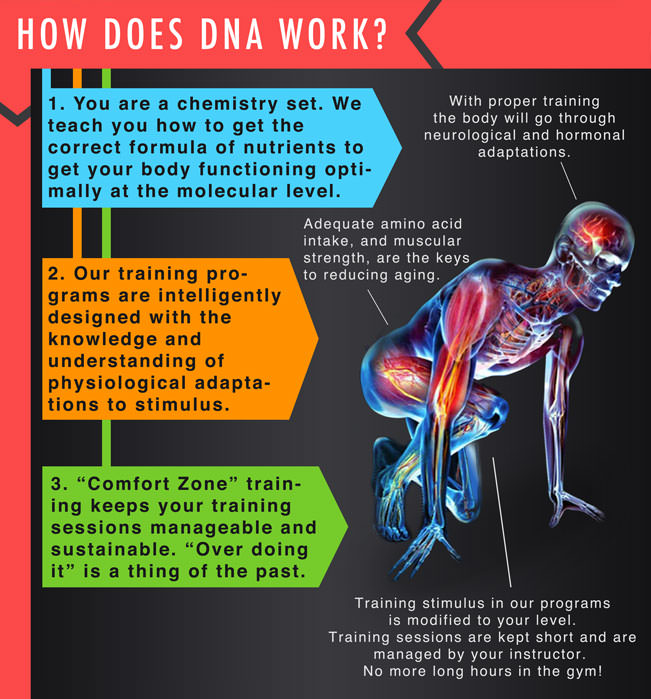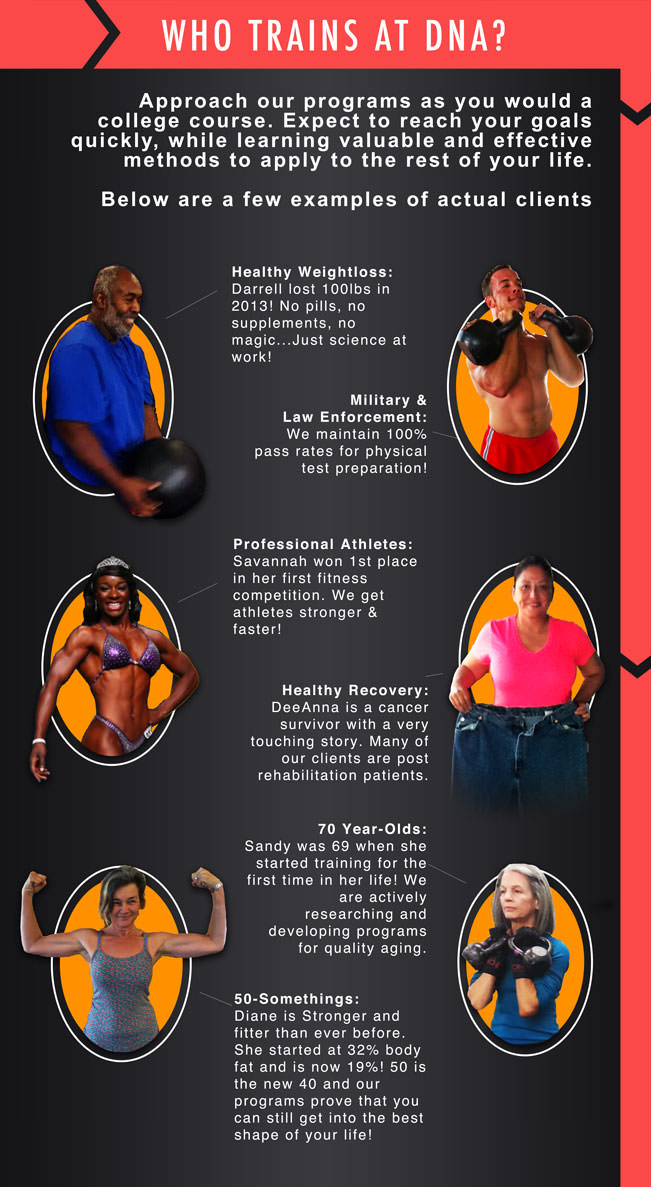 ---
DNA: College for Your Body
Are you:
A professional who doesn't have time for the gym but wants to be as fit as possible?
A mom who wants to have more energy and fit into those college jeans again?
A cyclist who wants an edge over the competition, or an athlete with a specific goal event?
A guy who wants to lose the gut and look good without a shirt?
A baby boomer who wants to stay independent into the future, and wants to have fun while getting stronger?
In the military, or working on qualifying for military or law enforcement, and in need of a training program to get you there?
Out of shape and completely unsure of where to start?
DNA Personal Training has a course for you! Get in the BEST SHAPE OF YOUR LIFE in just three short training sessions per week!
We've simplified everything. Our group classes are universally scalable, so that the anyone from beginner to elite can participate and be challenged at the right level. Our highly efficient training will make you stronger, faster, leaner, and even smarter* (!) in far less time than you ever imagined possible, with recovery programmed into the course – no "beat down" or intimidation necessary. We have helped our clients achieve tremendous measurable results: strength gained, speed increased, body fat lost, inches lost…not to mention intangible results, like the ability to keep up with kids or just get through a long day feeling great. Sound good? Read on.
PREREQUISITE
Think about your goals, and decide how you want to look and feel or what you want to achieve in the next few months, a year from now, and for your lifetime. You may want to look great in a bathing suit, be able to walk up the stairs without getting winded, or keep up with grandkids; whatever your goal, think it up and write it down.
COURSES
We offer several training options, customized to meet your needs, and we would like to meet you to learn about your interests and goals before helping you pick a plan. We offer Private and Group Training, as well as nutrition and sleep coaching, since nutrition and sleep are even more important for health than the time you spend in the gym.
Course descriptions
PRIVATE TRAINING
: the fastest way to reach your goals.  
Accelerated Custom Training
sessions are each 30 minutes or less, 3 times per week, tailored to your fitness level and targeted for meeting your goals – strength, general fitness, weight loss, competition in a specific event, etc. A.C.T. includes our Phase 4 Nutrition plan, which is a unique and highly effective approach that integrates nutrition with your training – far beyond the usual "eat clean" speech, and no starvation required.
We also offer Advanced Micro Training for our advanced clients, similar to A.C.T. but sessions are highly structured and only 15(intense) minutes, 3 times per week.
Private sessions are by appointment, scheduled at a time convenient for you.
GROUP TRAINING: our group classes blend strength cycles, CrossFit, kettlebells, and a great sense of community for a fun, challenging, and effective program. Sessions last 60 minutes or less (typically 45 minutes), and are modified to meet each individual's level – we coach technique in the classes, so they're somewhere between a traditional group class and personal training on the fitness spectrum. You can attend classes up 6 days per week, though most people get great results with 4 sessions. We offer Phase 4 Nutrition to group clients for an extra fee.
Group classes are at these times: Swan: M-F 5:30am, 6:30am, 8:30am, 9:30am; afternoons 4:30pm, 5:30pm, 6:30pm. Saturdays:  7:00am at Swan.  DownTown: M,W,F  5:30am, 6:30am, 8:30am, 9:30am; afternoons 4:30pm, 5:30pm, 6:30pm. T/Th: 6:00am, 9:30am, 5:30pm, 6:30pm.  Closed Sundays.
UNIQUE TRAINING: As the Level 2 CrossFit affiliate in Tucson and Southern Arizona and the home of Phase 4 Nutrition, a science-based revolutionary approach to integrated fueling, we offer a unique combination of innovation and experience that creates the most effective group training program in the area.
Contact us to schedule a free consultation, and join our fantastic community of DNA athletes. Just send three choices for appointment times, and one of us will reply shortly with a confirmation. Why wait? You have nothing to lose, except regrets!
*
The effect of acute aerobic and resistance exercise on working memory
.
Pontifex MB
.,
Hillman CH
.,
Fernhall B
., et al. Department of Kinesiology and Community Health, University of Illinois at Urbana-Champaign, IL. Medicine and Science in Sports and Exercise 2009 Apr; 41(4): 927-34.
Recent Instagram Photos