At DNA, we advocate real diets made of real food. We have considered offering protein powders and other supplements, but we just don't support the consumption of lab-made products. Many are toxic offer all kinds of health pitfalls; additives ranging from corn to artificial colors should not be in your body, and over time, they may lead to a range of issues, whether or not the FDA approves. Dyes have even been linked to ADHD in kids.
Vitamins are one controversial area; science explains why they don't work, studies have shown no benefit, and they are usually delivered with corn starch and other nasty fillers. Vitamin D (needed for calcium absorption) requires sunlight for production. Drinking milk won't do the job as the concentrations are low, and dairy has its own problems, especially commercial (not organic) milk. Each vitamin plays a role in the amazing system of your body, and real food generally has the best mix of the right chemicals to optimize your body's function and composition.
Some people like the convenience of protein shakes after a workout. Many commercial varieties are packed with fillers and sugars, including corn starch, so if you decide to go this route, read the labels carefully. Even the "clean" brands have sweeteners. Here are the labels from Progenex (left) and Gold Standard Whey in Vanilla (right):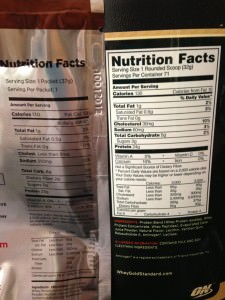 Both are sweet, triggering an addictive response that makes you want more sweetness. Gold Standard has a few chemicals, but nowhere near as many as Muscle Milk. What's your best bet after a workout? Chicken and a sweet potato? Probably. (One of our clients used to swear by chocolate ice cream, but that's another story.)
Fish oil may be one supplement that can actually do some good. Omega-3′s have a whole slew of health benefits, and few people eat enough fish to take full advantage. We assert that there is no single dietary silver bullet, as foods are rarely consumed in isolation and activity matters, but you probably can't go wrong by taking fish oil tablets. By the way, Atlantic salmon is often genetically modified, unsustainable, and fed pellets that make it dietary garbage – like corn-fed, hormone-injected, stockyard beef, it should be avoided. Alaskan salmon is fine, and you should always choose wild-caught fish. But I digress.
Bottom lines:
Eat real food, choose organic sources whenever possible, and consider adding some fish oil.
Get sunlight regularly – go without sunblock for half an hour; it's tough to balance vitamin D production with skin cancer prevention in Southern Arizona, so pay attention and don't overdo it.
Always read the labels! If a product has more than 4 lines of ingredients and any are unpronounceable, it's not a real food so you probably should not eat it. This rule goes for any supplements too.