Substitute Teaching, Part 1
Establishing a new eating pattern is a major lifestyle change, which works best when you discover new and delicious ways to meet your nutritional needs, rather than imitating your old diet. For example, pasta and sandwiches can be replaced with meat, vegetables, and interesting salads. However, food is very central to our cultures and behavior. Certain foods make us happy and remind us of celebrations of the past; hence the popularity of "comfort food," just like Mom made it. Therefore, while we recommend recreating your meals instead of substituting the old ones, we will be providing suggestions for delicious substitutes for popular foods, many of which are gluten-laden disasters. We will be starting a "Sub Board" at DNA, where you can write down foods that you want to substitute, and answers will magically show up for all to see and share. Three such examples follow, and for a fourth, see LeeAat's mini pizzas with cauliflower crusts!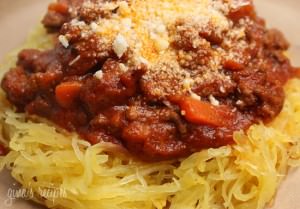 1. Spaghetti Let's start easy: spaghetti squash is a GREAT sub for spaghetti. It has 10g of carbs in 1 cup, about 1g of protein, and trace fat. According to
Livestrong
, it also has Omega-3 and Omega-6 fatty acids. It's easy to cook – just cut it in half, lay the halves face down on a cookie sheet, and bake it for about 30 minutes in the oven at 400′. Let it cool a bit, flip it over, and scrape it out with a fork. LOAD with a meat and tomato sauce, or anything else that works with your macros. Nom nom! 2. Zucchini carbonara My kids LOVE this stuff! Take a peeler, and make long, flat strips out of 2 medium-sized zucchini. Saute with 2oz of pancetta (or bacon) – I get this at Trader Joe's. While it's cooking, mix 1 egg yolk with 2-4T of heavy cream or full fat coconut milk – start in the middle (3T) and adjust to taste next time you make it. When the zucchini is tender and the pancetta is cooked, remove from heat and stir in the sauce. Add pepper and enjoy! 3. Bread Finally, an amazing "paleo" bread recipe from Elana Amsterdam, the queen of gluten-free baking. The recipe is
here
 and also below. I just made this and it vanished fast – we made French toast with it this morning, and it was delicious, especially topped with prickly pear syrup made in house!

Paleo Bread
Place almond flour, coconut flour, flax, salt and baking soda in a food processor
Pulse ingredients together
Pulse in eggs, oil, honey and vinegar
Pour batter into a greased 7.5″ x 3.5″ Magic Line Loaf Pan - it won't rise as well with a bigger pan
Bake at 350° for 30 minutes
Cool and serve
Bon appetit! Next time: mashed "potatoes" and other great uses for one simple ingredient…
Trackback from your site.