"It's all about the trainers…"
There is nothing like the feeling of entering a CrossFit gym, WOD still unknown, bass beat booming, athletes from the previous session lingering, some still catching their breath, others chatting excitedly about feats completed. Trainers mingle, offering high fives for the day's accomplishments and words of wisdom or inspiration to those about to begin the class. Everybody is giddy with anticipation or triumph. This feeling of exhilaration has been present at every CrossFit "box" I have trained at. However, since becoming a member of DNA Personal Training, it has become abundantly clear to me that there are critical differences between CrossFit venues.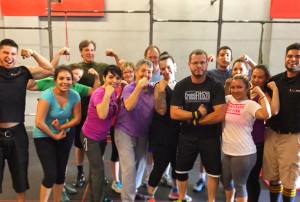 Superficially, the scene at DNA is similar to that described above. But the experience at DNA is profoundly superior to that of any other CrossFit gym I've visited. The trainers at DNA are present, capable, and truly committed to helping its members achieve maximum fitness without getting hurt. Not only are they trained to understand the mechanics of each movement, the trainers pay attention and are willing to step in and make corrections to improve form (and thereby function) throughout every single workout. Participants are not encouraged to lift heavier until their body mechanics are right. This is dramatically different from other venues where form is a distant second priority to lifting heavy.
The professionalism and respect of DNA trainers is reflected in the participants who are interactive, fun, and supportive. And, with so few injuries, athletes can participate consistently and achieve impressive health goals. As somebody with major muscle imbalances (partly exacerbated by years of careless CrossFit form), and subsequent physiological dysfunction, I am extremely grateful for the care DNA trainers put into their approach. I have received more helpful feedback during my first two months of training at DNA than I had during 4 years of training elsewhere and, as a result, I feel confident and inspired to push myself.
DNA truly is a brand of its own, and stands in contrast to the mediocre gyms popping up around town.  It will be worth your while. Enjoy.
Read More About DNA Group Classes
Group Classes
CrossFit & Strength/Conditioning
Group Classes – Strength & Conditioning
"I was at a gym before and didn't see any results in an entire year and in the time I have been here I have lost almost 8% body fat!" ~ Kristin
Here's what you need to know…
Group classes are kept small in order to maintain high quality training standards. You will be instructed by a highly qualified instructor, who will spend time to train you properly.
Every class has a purpose. The DNA group program is developed using scientifically grounded human physiology. Like vehicles, the "human machine" requires the same type of maintenance regardless of age, type, gender etc., just at different degrees. You'll get that in our classes.
DNA Instructors are the cream of the crop in personal training, and have been selected from a very long list of applicants. Once selected, every instructor must pass the vigorous DNA Instructors course, before being selected for employment as Certified DNA Instructors.
We've simplified everything. Our group classes are universally scalable, so that the anyone from beginner to advanced can participate and be challenged at the right level. We incorporate strength cycles, compound movements, Traditional Strength Training, Gymanstics, CrossFit methods, and Russian kettlebell principles to create highly efficient workouts that will make you stronger, faster, and leaner in far less time than you ever imagined possible.
UNIQUE TRAINING: As the highest qualified, and only Level-4 CrossFit affiliate in Tucson and Southern Arizona, we offer the highest quality training formulated through a unique combination of innovation and experience that leads to the best, most effective group training program in Southern Arizona.
Group training package tuition varies with course length.
UNLIMITED TRAINING

options include:
Monthly (No Commitments) $169/ month ($8.45 per class)
One semester (6 months) $159/ mo ($7.95 per class)
Two semesters (12 months) $139/mo ($7.45 per class)
We also offer Modern Nutrition for group training clients who want to maximize their results!
Military, law enforcement/first responder, teacher & full-time student discounts available